VA construction loans can help qualified Veterans finance the purchase of land and the construction of a brand-new home without the need for a down payment.
VA construction loan lenders are challenging to come by. True, $0 down VA construction loans aren't incredibly common in today's lending climate. Many lenders, including Veterans United, do not currently offer this kind of financing.
The good news is that there are still options for Veterans to build their dream home and utilize their VA loan benefit.
What is a VA Construction Loan?
A VA construction loan is a short-term loan allowing Veterans to purchase land and build a custom home as their primary residence. In many cases, there are separate closings (and associated closing costs) for the VA construction financing and the permanent mortgage.
It is also possible for the construction loan and permanent financing are handled with a single loan at closing before construction commences. This is called a one-time close or VA construction to permanent loan.
Keep in mind, it may be difficult to find a true VA construction loan.
VA Construction Loan Requirements
You'll need to meet all the standard VA loan eligibility requirements to qualify for a VA new construction loan, as well as some additional ones you wouldn't run into in the typical VA loan home purchase.
VA loan new construction requirements include:
Finding a licensed and insured VA-approved builder
Submitting a complete set of construction plans to your lender when applying
Appraising the home construction plans
Providing any additional documentation your lender may require
VA Construction Loan Uses
Veterans can use a VA construction loan to build a single-family home on land they own or plan to purchase. However, the VA has restrictions about using the VA loan to purchase land. Veterans can't buy land with a VA loan unless they immediately begin construction after purchase.
What is the VA Construction Loan Process?
Every homebuyer's situation looks different, depending in part on the lender they're working with, the home builder and a host of other factors.
Generally, the process follows along these lines: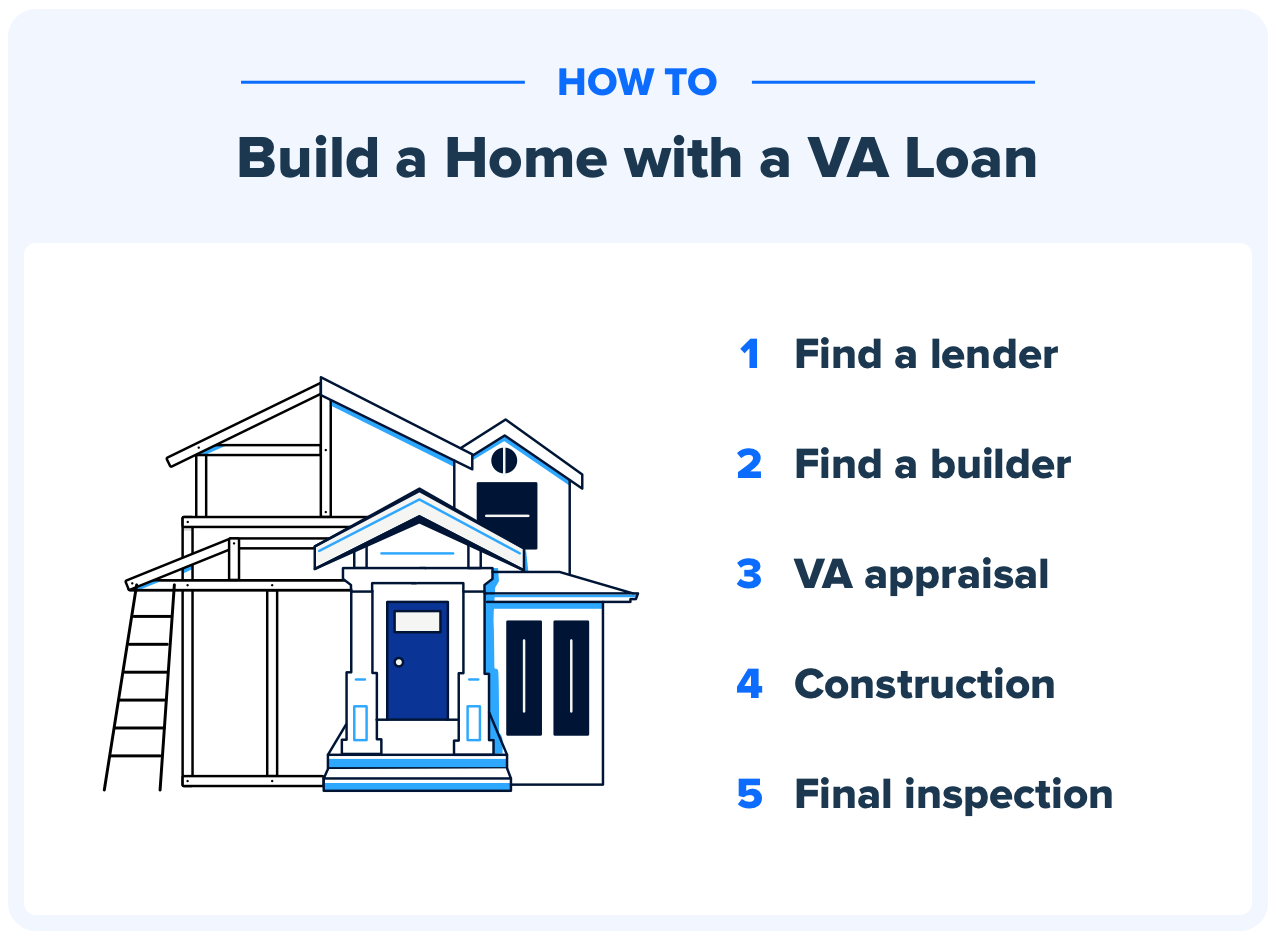 Step 1: Find a Lender
This first step can prove challenging. Many VA lenders do not offer financing for new construction. We'll explore other ways to use your VA loan benefit to build a home in the next section.
Credit score requirements, interest rates and other variables can and often will vary among lenders. If you find a trustworthy lender offering these loans, then you'll work with them to close the loan before construction starts. That means providing the same kind of income, employment and financial information you would for a traditional VA purchase loan.
Step 2: Find a Builder
The VA doesn't approve home builders, but they do require them to register with the department and obtain what's known as a VA Builder ID. These can usually be obtained within a matter of days. The VA maintains a list of its approved home builders on its website. You or your builder will provide the construction plans to the lender.
Step 3: VA Appraisal
The lender will order a VA appraisal based on the new build plans and specifications. Soon after, the VA issues the formal Notice of Value listing the home's fair market value. Lenders will lend the lesser of the home's acquisition costs and its fair market value. Once this key step is complete and the proposed home meets VA guidelines, your loan can move to closing.
Step 4: Construction
With a true VA construction loan, Veterans close on the loan before the build begins. The lender then makes draws to a builder to cover the stages of new home construction.
Step 5: Final Inspection
The VA requires a final inspection when the home is complete. The original appraiser typically conducts the final inspection whenever possible. This inspection ensures the home still meets VA's broad property condition guidelines (Minimum Property Requirements) and was built to the correct plans and specs.
What if You Can't Find a VA Construction Loan?
While the VA insures a portion of each loan, it's up to individual VA lenders to determine what kind of loans they'll issue. The level of risk in new construction often causes many VA lenders to shy away.
Like many other lenders, Veterans United does not make VA construction loans to build new homes.
An alternative to getting a VA construction loan is getting a construction loan from a builder or a local lender and then refinancing that into a permanent VA loan.
This approach is something we help Veterans with every month. Here's what you need to know.
Start with a Construction Loan
Veterans unable to find a lender willing to do a VA construction loan can look to get a traditional construction loan and transition that to a VA loan after closing.
Getting a traditional construction loan often requires a down payment. However, it may be possible to recoup the down payment in some cases.
When searching for a construction loan, it can pay to shop around. Talk with multiple builders and financial institutions and compare down payment requirements, closing cost estimates and more.
Some builders may have programs or deals, especially for Veterans and military families. Do your homework and make sure you're working with a legitimate builder with a track record of success and satisfied homeowners.
Veterans and military members who own the land they want to build on may be able to use any equity they have toward down payment requirements for construction financing.
Veterans who don't already own land can often include purchasing it in their overall construction loan.
It's important to understand that construction loans are short-term loans. That means Veterans and military members must start working on the permanent financing as early as possible.
Permanent VA Financing for Construction Loans
Lenders can take a couple of different approaches to turn that short-term construction loan into a permanent VA loan. One is to issue a VA purchase loan, and the other is to make a VA Cash-Out refinance loan. Guidelines and policies on this can vary by lender.
From an underwriting perspective, there's little difference between a VA purchase and a VA Cash-Out refinance. In both instances, Veterans and military members hoping to turn their construction loan into a permanent VA mortgage will need to meet the same underwriting guidelines as Veterans purchasing an existing home. This includes meeting requirements for credit score, debt-to-income ratio, residual income and more.
Additionally, similar to a VA construction loan, the home needs to be constructed by a builder with a valid VA builder ID. These aren't hard to get, and it's even possible for Veterans to build the home themselves. Builders often need to provide a one-year warranty.
Lining up a construction loan is a critical step, but you'll need to turn that short-term loan into a long-term mortgage once the home is built. That's not something you want to wait to explore.
New Construction Purchase vs. Cash-Out Refinance
The big difference between VA purchase and VA Cash-Out refinance loans is your ability to get cash back at closing.
With a VA purchase loan, lenders will lend whichever is less between the home's appraised value and the total payoff for the home's construction (and the land loan if that amount isn't included in the construction loan).
On a Cash-Out refinance, qualified buyers may be able to borrow up to 100 percent of the home's appraised value. That means Veterans and military members may be able to get cash back at closing from the home's equity, which could help defray the upfront cost of a down payment or other cash outlays.
For example, let's say you put down 10 percent to secure a $300,000 construction loan covering the acquisition of the land and construction of the new home. Subtract the down payment ($30,000), and you're left needing to borrow $270,000 to repay the construction loan.
If the VA appraisal ultimately determines the home's value is $300,000, you might be able to borrow that amount and get back in cash the difference between the appraised value and what you owe ($30,000 in this example).
Guidelines on loan-to-value ratio and other requirements can vary by lender.
Generally, at Veterans United, the borrower would need to hold title to the land on which the home is built in order to be eligible for a refinance. Otherwise, we would treat it as a purchase loan.
Some buyers may jump at this cash-back opportunity, while others prefer to keep building equity and start with the smaller loan balance. Every buyer's situation is different.
Facing Low Inventory, More Veterans Consider Building
With housing inventory at its lowest level in nearly 25 years, more Veterans and service members are looking at new construction. VA mortgage applications for new construction ticked up slightly in July from June, while conventional applications for new construction dipped, according to new data from the Mortgage Bankers Association.
Building a new home is one of the top three trade-offs Veterans and service members are willing to make given the inventory shortage, according to Veterans United Home Loans' most recent Veteran Homebuyer Report, a quarterly national survey of Veterans, service members and civilians who intend to buy homes in the next three years.
Here's a look at the top compromises Veterans are willing to make: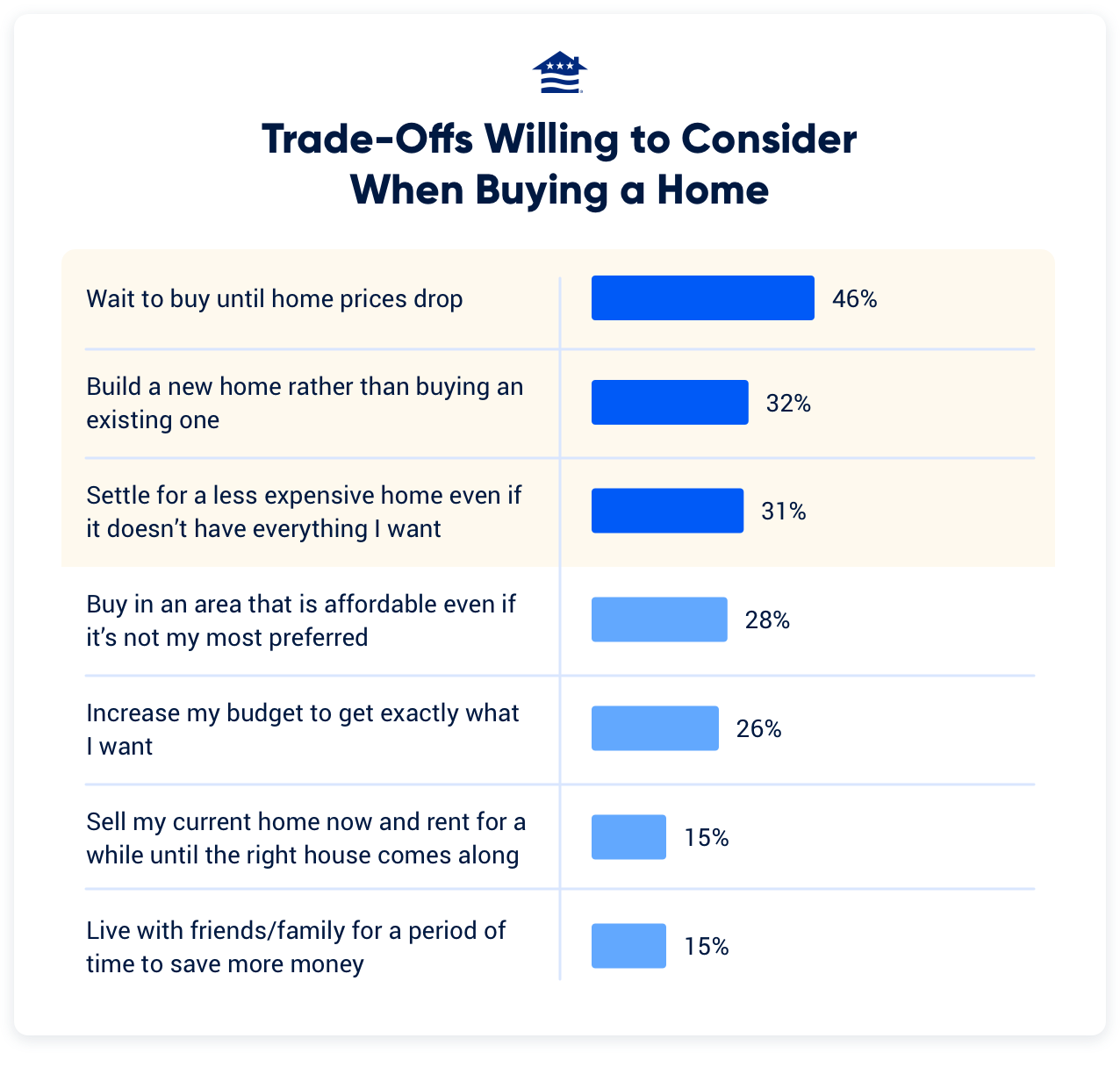 More Veterans are trying to side-step the inventory issue entirely and use their hard-earned home loan benefit to build a new home. To be sure, it isn't always an easy road.
It is absolutely possible to use your VA loan benefits for new construction. But the process isn't always simple or straightforward, and some buyers may need money for a down payment to get things moving.