A home inspection provides an in-depth look at a property to inform prospective buyers as much as possible before they commit to purchasing a home. Many real estate agents recommend getting a professional home inspection lined up as soon as you're under contract with a seller.
As a VA loan borrower, you may need clarification about the difference between a home inspection and a VA appraisal. A home inspection is much more granular and detailed than an appraisal. Unlike the appraisal, a home inspection isn't mandatory, but that doesn't mean you shouldn't get one.
A professional home inspection alerts you of any flaws before the deal is done and allows you to renegotiate or walk away from the purchase contract. Read on to learn how a home inspection can give you peace of mind during the VA homebuying process.
What do home inspectors look for?
A home inspector will examine practically every corner of your home for current or expected problems, from the roof to the crawl space and everything in between. Take a look at the checklist below to see what home inspectors typically examine.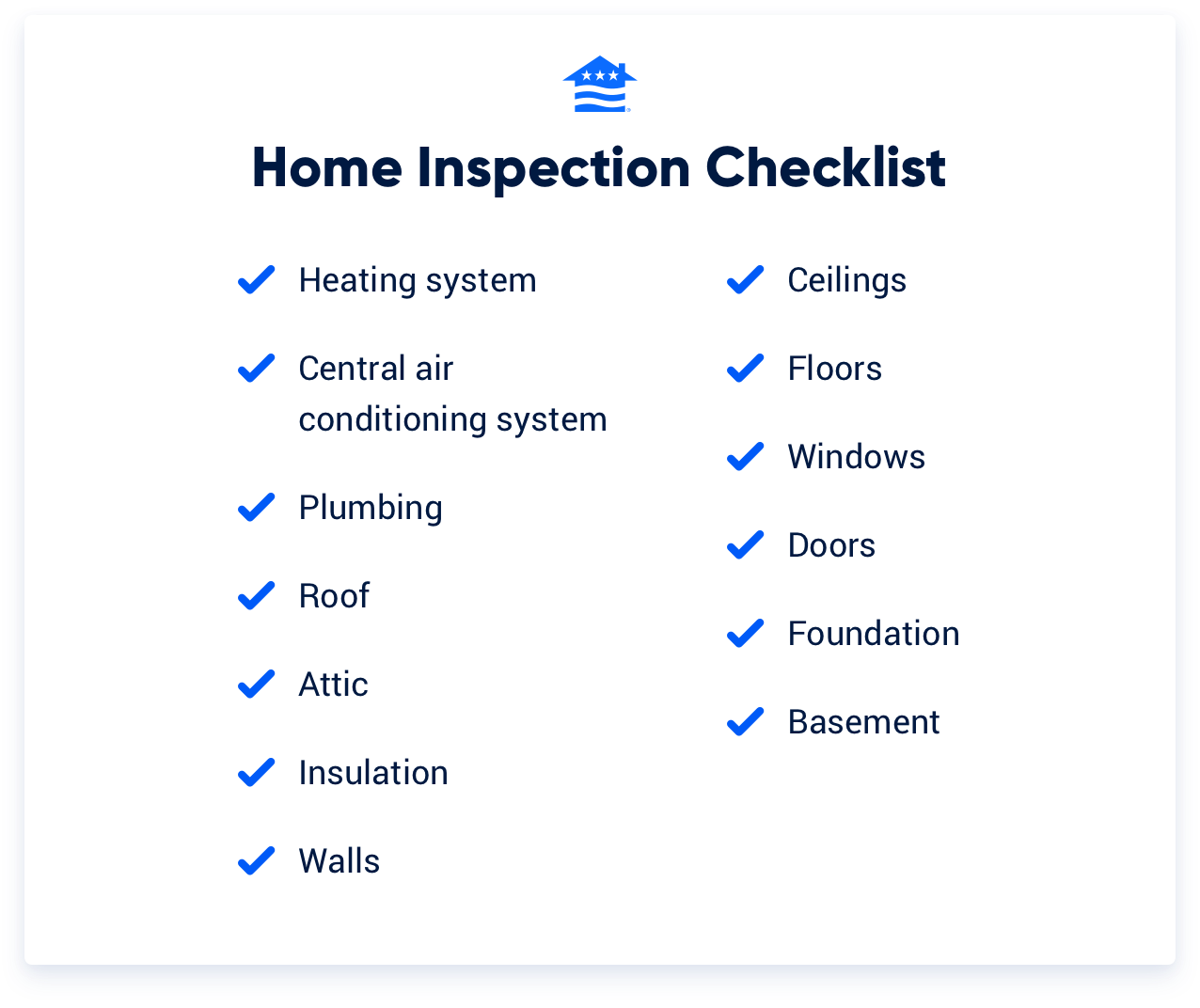 Home inspectors are professionally trained to evaluate every last detail of a home, including structural elements, plumbing, wiring and heating/cooling systems. These experts can assess current problems and highlight potential issues that may arise.
Some buyers prefer to have the home inspection before deciding whether to move forward with (and pay for) the VA appraisal. If the home inspection turns up major problems buyers don't want to deal with, there's little sense in moving forward with that property. In those cases, buyers with a home inspection contingency can walk away from the deal without penalty.
What is a home inspection contingency?
A home inspection contingency, agreed upon in the purchase agreement, allows you to schedule an inspection of the property you intend to purchase within a specified timeframe. Following the completion of the inspection, you could ask the seller for a lower sale price or negotiate repairs. If the home's condition is far below expected, you can terminate the deal without losing your earnest money, the deposit you paid to demonstrate your intention to purchase the home.
How to Find a Home Inspector
Not all home inspectors provide the same level of service. To find an experienced, reputable home inspector, consider the following tips:
Use Recommended Inspectors
Ask your real estate agent or your VA loan officer for recommendations for home inspectors. One of these professionals should be able to recommend quality inspectors in your area. Also, check with friends and family members who have recently purchased homes.
Check With Trade Groups
Organizations like the American Society of Home Inspectors or the National Association of Home Inspectors maintain a list of local members. Inspectors have to undergo a certification process to belong to these organizations, which helps ensure members maintain a high level of service.
Examine Qualifications
Some states require home inspectors to be licensed. Check with your real estate agent about your state's licensing requirements, and ensure that your inspector meets those requirements.
See a Sample Home Inspection Report
A sample inspection can tell you a lot about an inspector's abilities. Is the report clear and thorough? Are images of deficiencies included? Does the report make recommendations for potential homebuyers? Failure to include any of these items is a warning sign. You're responsible for the cost of a home inspection and want to ensure you're getting your money's worth.
Ask About Home Inspection Costs
Asking about fees before hiring an inspector can help you budget. Home inspection fees vary based on the provider, your home's size and location. According to the U.S. Department of Housing and Urban Development, a typical range for home inspection costs is $300 to $500. Considering the amount you'll ultimately end up paying for your home, that's a relatively minor price for peace of mind.
Home Inspection Report
The home inspection report will detail the current condition of a home and list any problems that may be on the horizon. Your home inspector will typically spend at least two hours evaluating your home. Try to be present for the inspection. It's a great way to familiarize yourself with the house and its potential problems.
Your inspector will usually provide a detailed inspection report within a few business days. The report will contain extensive data about the home's condition and recommended repairs.
New Construction Home Inspection
Just because a home is newly constructed doesn't mean that everything has been built safely or correctly. Shortcuts may have been taken, safety measures may have been skipped or improper materials may have been used. A home is a significant investment, so taking the necessary precautions is essential.
Negotiating After Home Inspection
If the inspection revealed a few minor problems, you can negotiate the contract with your seller. When you made your original offer, you believed the home was in a certain condition. The inspection provided new information, so the home's value may have changed.
Let's say that an inspection revealed a home has foundation problems. You could ask the seller to pay for the repair or renegotiate the contract terms. Remember, too, that there's a danger in asking for too much. You could consider trying to pay for the repairs yourself. Or you might decide you don't want to move forward on a home with foundation issues.
What fixes are mandatory after a home inspection?
Technically, there are no general mandatory repairs after a home inspection. Buyers typically have a list of "must-have" repairs, indicating that if the seller refuses to make the repairs, they will not proceed with the sale and will terminate the contract. Lenders may also have their own requirements, so make sure you discuss home inspection repairs with your loan officer.
Some common home inspection repairs include:
Water or mold damage
Electrical, fire or structural hazards
Building code violations
Plumbing, electrical or HVAC system problems
Roofing issues
Pests or insect infestations
Foundational issues
Any chemical contamination

As long as your contract is contingent on the results of a home inspection, you're free to walk away with your earnest money back. The only cost to you is the home inspection fee.
What to Do If Your Home Inspector Missed Something
While home inspections are supposed to give you a full picture of the home, mistakes do happen occasionally. If you discover a major structural issue after your purchase, such as termites or large-scale mold, you could seek recourse from either the seller or your home inspector.
Sellers are legally required to disclose any major problems they're aware of during the closing process. However, sometimes things slip through the cracks. In this case, proving that the seller was aware of the problem during a legal proceeding can be very challenging, although it isn't impossible.
You may also believe that your home inspector is at fault. But, your contract may include an exculpatory clause, which limits the inspector's liability for failing to report potential defects and can prevent you from pursuing legal action.
This further emphasizes why you should carefully choose a qualified home inspector who can discover any red flags before you make a purchase decision. Ensure that your inspector has access to all areas of the home (including crawl spaces and attics) and that you are present during the inspection. Make sure you check the reputation and certifications of the inspector, as well as the terms of the contract, before you sign anything.
No matter what type of home you're purchasing, it is strongly recommended to get a professional home inspection.